Frequently Asked Questions
What is Corporate Housing?
Corporate housing or executive accommodations provide all the comforts, amenities and essentials you typically enjoy at home in a residential apartment community at a rate well below the alternative of an extended stay hotel (see below for comparisons to extended stay hotels). Corporate housing provides an all inclusive, fully furnished, one, two, or three - bedroom apartment home for stays of 30 days or more in virtually any location.
What is included in a Corporate Accommodation?
At a minimum, each corporate apartment/condo includes:
A complete premium furniture package with each room custom decorated and accessorized with beautiful wall art, plants, pottery and other personal touches;
All major appliances including television, DVD player and an in-suite washer and dryer;
A full kitchen package including dishes, utensils, glassware, cookware, toaster, coffee maker and microwave oven in addition to a full set of cooking utensils so you have the ability to prepare virtually any meal;
A full bedroom and bath linen package with plenty of towels and extra sets of sheets for each bed;
All apartment utilities including free local telephone calls, cable television and high-speed internet access.
A goody basket including water, snacks, coffee, condiments and a starter kit of hand soap, cloths, detergent and dish detergent.
How much does it cost?
Rates vary depending on the number of bedrooms, the location, additional upgrades or amenities and the length of your stay. Generally, however, you can expect to pay a daily rate as low as $75.00 per night, up to as much as $125.00. Rates include all utilities, furnishings and access to all community amenities. No hidden costs, extra deposits or application fees.
What is included in the daily rate?
The daily rate is all-inclusive. It covers all apartment expenses, all furnishings, housewares, linens, in-suite washer and dryer, local phone calls, cable, high-speed internet access, electricity, water and community trash service. If you desire, rates can include housekeeping services on a weekly, bi-weekly or monthly basis.
Why should I use a Corporate Housing Company?
Setting up your own temporary apartment can be very time consuming and expensive and most apartment communities generally do not offer short-term leases of less than 6 months. Therefore, if you include delivery fees for furniture and house wares, deposits and connection fees from utility, cable, phone and water companies, your time to manage and setup these components, the costs become prohibitive. Using a corporate housing company experienced at setting up and managing temporary accommodations saves money, time and frustration, allowing you to focus on finding a new home, managing your project or enjoying your new community.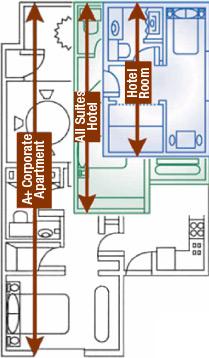 How does Corporate Housing differ from
an Extended Stay hotel?
A corporate accommodation provides 2 to 3 times the living space of an extended stay hotel. Taking into account the daily rate of an extended stay hotel plus taxes, your average cost per square foot is nearly 4 times that of a corporate accommodation. ($11.50/sf/month vs. $3.00/sf/month). Corporate apartment properties are generally located in quiet residential communities with long-term residences vs. the transient environment you will find at a hotel. Your corporate accommodation includes free local telephone calls whereas at a hotel, you may be charged every time you pick up the phone. In addition, corporate accommodations provide a full size in-suite washer and dryer that are free to use, whereas your extended stay hotel may use a coin operated floor laundry facility or provide small stackable units. Finally, you will find corporate housing to provide flexibility to tailor your accommodations to your needs (such as bed sizes) not available in an extended stay hotel.
MORE ROOM - MORE COMFORT - MORE VALUE
What are the benefits of Corporate Housing vs. an Extended Stay Hotel?
When you select A+ Accommodations to setup your executive accommodations, you'll receive a custom decorated, beautifully accessorized, conveniently located home away from home. Hotels simply cannot offer the selection, customization, flexibility and home style environment that will make your temporary living comfortable and enjoyable.
Two to Three times the space
Optional furniture packages
Convenient locations
Full-size, fully-equipped kitchen
Full-size washer and dryer (available in nearly every apartment)
One-, two- or three-bedroom suites
One fourth the cost per square foot
Free local telephone calls
No added hotel or tourism taxes
Are housekeeping services available?
Yes, housekeeping services are available on a weekly, bi-weekly or monthly basis. A+ Accommodations uses their own professionally trained team of specialists who do more than simply "turn" your room in 30 minutes. They typically spend between 2 to3 hours and their service includes changing bed linens and making up beds, washing linens and towels, dusting and wiping down all furniture, cleaning mirrors, mopping floors, vacuuming carpets, cleaning dirty dishes, utensils, pots and pans and resetting your apartment.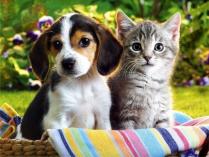 Are pets welcome?
Of course! At A+ Accommodations we offer pet-friendly apartment options in most locations. However, many properties have a pet weight limit and require a pet deposit.
How do I pay?
A+ Accommodations corporate apartment homes include a fully furnished apartment, rent, utilities, cable, phone and any additional fees all on one monthly invoice. Our guests typically pay monthly, or we can arrange to have their company billed directly. Companies with multiple employees staying with A+ Accommodations can have their invoices consolidated for easy payment and reconciliation. Individuals can also pay via checks, money orders, and major credit cards.
How does A+ Accommodations differ from other companies?
First and foremost: "Pride of Ownership" quality. A+ Accommodations is privately owned, operated and managed by the owners. They put their personal reputation behind every accommodation provided to a client. Second, because our overhead is tightly managed, we pass the savings to our guests by offering rates that are truly competitive. Third, we ensure the quality of each apartment by utilizing our own housewares, linens, appliances and furniture. This insures the utmost in quality and consistency.

Moreover, our guest services team inspects every apartment prior to move-in and is available 24/7 to respond to guests' needs or requests. We also include internet service and offer a choice of bedding options. Flexibility sets us apart and A+ quality, comfort and convenience sets us above.
What's the catch?
There is no catch! A+ Accommodations has been one of the leading providers of corporate accommodations in North and South Carolina for over 10 years. Unfortunately, many people are not aware of the benefits of using corporate apartments for satisfying their long-term temporary housing needs. However, more and more companies and individuals are learning about the benefits to be derived from staying with A+ Accommodations and Relocation, Inc. Our service is guaranteed.