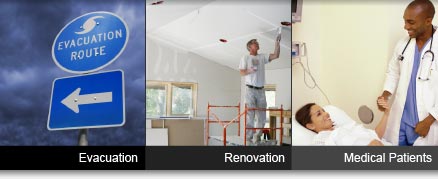 Housing Solutions
Insurance Housing and Medical
Patients
Displaced from your home?
When disaster strikes and you are going to be temporarily displaced from you home, A+ Accommodations will quickly find you housing suited to your needs, budget and lifestyle. Whether that means staying close to your current residence to oversee reconstruction and maintain your daily routines or being close to your place of employment, we can accommodate you.
We will consult with your insurance company to understand your circumstances and then speak directly with you to make sure we understand what you need. We'll work to locate suitable temporary housing within 48 hours and coordinate the details of your move-in, so you can get back to "life as usual" as quickly as possible.
Because we own the furniture, housewares, appliances, linens and electronics, we can ensure your home-awayfrom-home will be complete with all of your needs when you arrive. If you need additional household items, our housing specialists will gladly coordinate your requests with your insurance company.
A+ Accommodations will address all the challenging details of moving for you. We'll work with you and your insurance company to determine billing options and the best method of collecting a security deposit. We'll also coordinate your move-in and move-out, set up utilities and phone service, and take care of any maintenance issues that arise.
We welcome pets, large and small, in many locations.
During your temporary living with A+ Accommodations, you'll rest assured because you will work with only one housing specialist familiar with the details of your situation. You'll also have access to a 24-hour team who can answer questions or help with emergencies after business hours.
Medical Patients and their families
Although we provide temporary housing for many needs, one joy and passion we have is to assist families who may need to be away from home for extended periods of time due to a medical emergency or long - term hospitalization. Our housing specialists, work tirelessly to identify and create a housing solution which provides the comfort and affordability families need during this stressful time. We will identify housing which is in close proximity to the healthcare facility and customize the bedroom configurations to address the sleeping needs of any family.

Don't forget to read our Price Guarantee!
What you can expect...
We take care of all the details.
Beautifully decorated furnished apartments stocked with dishes, linens and other household items. List of Amenities

Full Kitchens with separate living, dining and sleeping areas.

Utilities are paid and housekeeping is handled.

We'll find a location to meet your needs: close to work, in specific school districts, near major shopping and business centers, convenient to airports.

One, two or three bedroom apartment homes to meet your needs... Don't forget pets are welcome...

Rates include furnishings, housewares, linens, utilities, cable, internet and phone

Most properties have resort-style amenities for you to enjoy when you're not at work... beautiful pools, fitness centers, billiard rooms, barbeque pits, movie theatres.

We can accommodate groups with special rates and flexible solutions that meet your needs.
Why stay in a hotel...
when you can experience

living with us?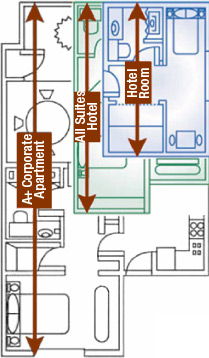 MORE ROOM
MORE COMFORT
MORE VALUE