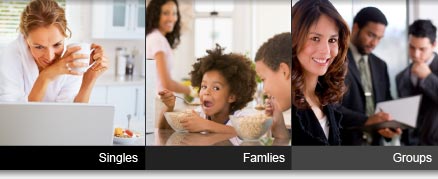 Housing Solutions
Relocation and Temporary Assignment
Relocating to the Carolinas — We can help!
A+ Accommodations specializes in assisting individuals and families relocating to the Carolinas. Our team of housing solution specialists understands the importance of providing temporary housing which is convenient, safe, comfortable and especially cost effective. Staying in one of our temporary accommodations, gives you the time and convenience to find a home and community which will satisfy your long term housing preferences. Our knowledge of each of the markets throughout the Carolinas and our reputation for providing outstanding accommodations gives you the confidence and freedom to focus on settling into a new community and workplace. Our approach to identifying the right property to fit your budget and our flexibility make it easy to do business with us. With a range of housing options and amenities, we have a furnished apartment to suit your needs.
Temporary Assignment — 3 times the space at half the price
A temporary assignment for work doesn't have to be a choir. Our accommodations offer three times the space, at generally half the price of an extended stay hotel. Don't settle for living in your bedroom, cooking in a toaster oven or standing over a washer in a community laundry facility. Our fully furnished apartments offer all the conveniences you enjoy at home like a fully-equipped gourmet kitchen, comfortable bedding on a hotel luxury orthopedic mattress, generous supply of linens, full-size in suite washer and dryer, cable television, internet service and phone all included on a single monthly invoice. In addition, each property offers a variety of resort-style amenities such as outdoor swimming pools, business centers, fitness facilities and billiard rooms.
Between Homes — No need to worry
A+ Accommodations combines the comfort of a private apartment with services designed to make your temporary stay comfortable. Our move-in process is simple, and we'll set up all the utilities, cable, internet and phone service before you arrive. During your extended stay, our local staff will be available to answer questions and address your needs. If you require additional household items, from office equipment to children's items, our staff will promptly respond to your requests. Maid service is also available.
What you can expect...
We take care of all the details.
Beautifully decorated furnished apartments stocked with dishes, linens and other household items. List of Amenities

Full Kitchens with separate living, dining and sleeping areas.

Utilities are paid and housekeeping is handled.

We'll find a location to meet your needs: close to work, in specific school districts, near major shopping and business centers, convenient to airports.

One, two or three bedroom apartment homes to meet your needs... Don't forget pets are welcome...

Rates include furnishings, housewares, linens, utilities, cable, internet and phone

Most properties have resort-style amenities for you to enjoy when you're not at work... beautiful pools, fitness centers, billiard rooms, barbeque pits, movie theatres.

We can accommodate groups with special rates and flexible solutions that meet your needs.
Why stay in a hotel...
when you can experience

living with us?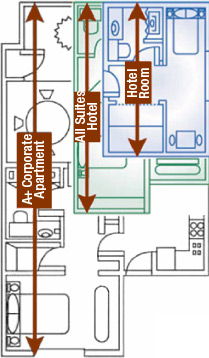 MORE ROOM
MORE COMFORT
MORE VALUE